Festivals
The much anticipated Mudpack Festival is celebrated every third weekend of June at Mambukal Resort. The Mudpack Festival is a symbolic presentation that seeks to instill awareness in caring for the environment. Dancers are painted and coated with colorful mud found abundant in the resort.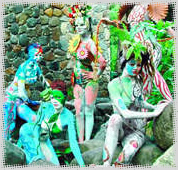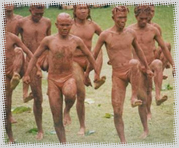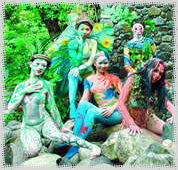 The Mudpack Festival is a different event as it centers on the harmony of man and nature. The celebration features Mambukal's distinct multi-colored clay to stir people's awareness of the importance of our environment. It is a Festival of Arts and this serves as venue where artist from all over Negros gather to exhibit their respective artistic talents in ethnic dances, crafts and music.
Another festival here is the so-called Tinabu-ay Festival, the town annual celebration of good harvest and thanksgiving. It is a 9-day religious-cultural folk festival depicting the town's market day and highlighting its agricultural products. It is also a celebration in honor of the birthday of the Immaculate Conception, the patron saint of this town.
The province-wide "Victory Day" celebrating every September 9, wherein the Japanese soldiers surrendered to the Americans in Barangay Santa Rosa, commemorating the heroism and patriotism of native soldiers during the Second World War.